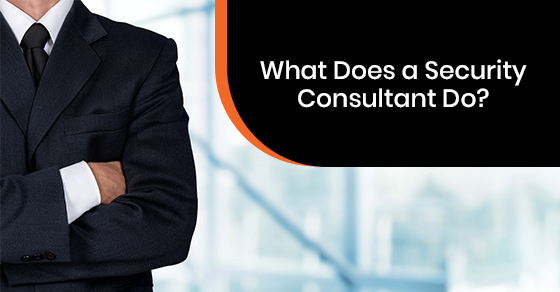 If you have been considering ways to improve the security of your business, then hiring a security consultant can help save you time and money. The business of securing and protecting your organization deserves a proper strategy. The security industry can be complex, and by hiring a professional, you will have assistance in defining the right solution for your needs. Whether you are in retail, finance, or other industries, a security consultant can identify your needs and define ways to improve your protection.
Some companies may be hesitant to use a security consultant because they are unsure of what is involved. Other organizations may be unaware of just what a security consultant can do for them. Sometimes, there is a feeling that a security consultant won't be able to tell you anything that you don't already know. Yet, given the variety of areas within the security industry, no one can be an expert in all things.
However, it is important to know what to expect from your consultant, particularly what their role is and any limitations they might have. So, before you decide on who to hire, here is some background on what a security consultant actually does.
What is a security consultant?
A security consultant can be one individual or a team of individuals who have expertise and experience in the security industry. It is important to note that these consultants should be focused on your interests alone. Therefore, any individual or group who also receive money from a third party like a security organization or company does not fall under the security consultant category. This is because their business interests are not focused strictly on protecting you, but could be compromised due to the connection with the third party. These types of security professionals will often offer to do security planning for you free of cost. In addition, they may appear to do a good job of defining your security needs. However, it is important to note that their priorities may conflict between maximizing revenue for their third-party connection and saving you money. A trustworthy security consultant only works in your best interests.
What experience qualifies as a security consultant?
Security consultants can come from a variety of backgrounds, including police officers, security equipment installers, security equipment manufacturers, and more. The key is that they have worked in the security industry for a period of time and have knowledge of the equipment, tools, and techniques needed to protect you and your interests. Many security consultants have a main area of expertise. When determining their fit for your project, consider if their area of expertise is what you need.
What can a security consultant bring to the table?
The security industry has many different niches, so it is important to find a security consultant that has the right mix of experience and expertise in the area you want. For example, some of the expertise areas are:
Perimeter fences
Access control
Emergency planning
Security force management
Asset security
Internal fiscal security
Pre-employment screening
Training
Video surveillance
Intrusion detection
Door and window hardware
Systems integration
Building design issues
Crime prevention and sustainable design
There are so many more areas that a security consultant may be knowledgeable about, but it is not possible to be an expert in all areas. Therefore, depending on your security needs, you may need a team of security consultants to get the job done right.
When hiring a security consultant you will first need to determine whether you want someone who has deep knowledge in just a few areas or with little knowledge in several areas. This will largely be determined by your project. A security consultant with some experience in a variety of areas can be useful in projects that are larger in scope. These individuals will be able to see the bigger picture and identify the different areas that need to be handled. However, if you have a security issue that is narrower in scope, then a security consultant who is well-versed in that area could be advantageous.
Benefits of a Security Consultant
Having a security consultant on your side will help you save valuable time and money. Their expertise in security issues means that you won't spend as much time trying to define your needs. Rather, the security consultant should pinpoint a few practical ways that you can strengthen your system.
Some other benefits of hiring a security consultant include:
An unbiased view of your needs.
Skill in problem-solving for a variety of spaces.
Knowledge of cost-effective solutions.
Outsider perspective of your security issues.
Ability to prepare a comprehensive report on your security needs.
Supervision of security projects.
Capability in locating and identifying the best vendor for your security needs.
Conclusion
As you contemplate ways to improve the security of your organization, it is a good idea to consider bringing a security consultant on board. These individuals or teams can help by identifying your security weaknesses and needs. Regardless of the industry that you are in, whether it is retail, finance, or other industries, securing and protecting your organization requires thoughtful planning and a solid strategy. While some companies feel that their security efforts are enough to protect their interests, even just one neglected area can put you at risk of being compromised.
Professional security consultants are experts in a variety of different security issues and can save your company valuable time and money. They can work alone or in teams, depending on the scope and demands of your project. No matter what your security efforts have been so far, it is key to ensure that you are doing all you can to protect your organization. Security consultants can be the best first step for improving and guarding your safety.